Promedia News
We are up and running at our new location with a lot of good things going on. We now have a ten color UV press, a new state of the art digital press (that prints up to 27" sheets, prints spot clear and opaque white), all new pre-press with department (with new chemical-free plate-setter, advanced prepress work flow software) and much more - this means better efficiency and better prices!
Print Buzz
Special Offers
Free sample print of your digital file!
Ultra-Fast Printing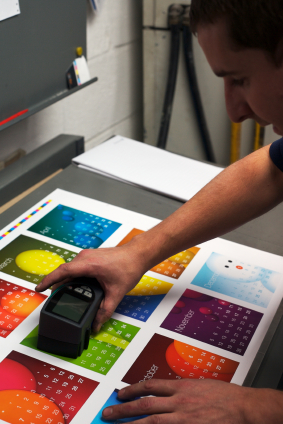 Calendar printing on offset press
Good quality at a great price is expected nowadays, and there are many print and copy shops that do an excellent job at both. So what sets Promedia Printers apart from the rest?
Our goal is simple: Give our clients what they need to be successful in their business. We identify client needs and find the best possible solution. This is where our knowledge and experience come in. Most of our staff have been in the business for over 25 years. We have seen the evolution of the printing industry and surround ourselves with efficient and dependable equipment to solve almost any custom printing need.
Making our clients look good is our other goal. Nobody wants a low quality job. Here at Promedia, we maintain a multi-point quality control system that keeps our rejection rate practically non existent. This is better for us and you.
We are a full service printing house, and online printing source with real people and real service. Call us for advice to print stationery, brochure print, mailers, newsletters, postcards, packaging, product tags, perfect-bound books and booklets, coupons, forms and much more. We produce all of these items in our own production plant in Canoga Park, CA in the San Fernando Valley and use digital or offset platforms using Heidelberg and Xerox equipment.
Feel free to call us anytime to discuss your project.
To place your print or copy order or to get help with a new printing or packing project, enter our online Customer Service Center. To get a quote on your custom presentation folder, mailer, brochures or any other product you need, Request an Estimate here. For helpful information, search our Resources & Support area. To learn more about us, browse through our Company Information section.
An easy-to-use pulldown menu and link to our contact form appear on each page. View our site map to find what you are looking for. If there's anything we can do to improve our site, please let us know.
New Customer Portal Feature - Ask us now for your own user name and password to securely send your art files and view proofs online. In addition, you'll have access to products catalogs designed specifically for you, your company and your industry.