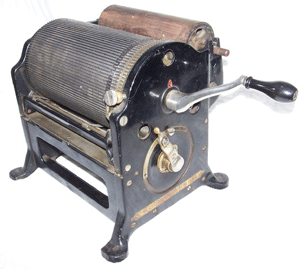 Old Multigraph
The roots of Promedia Printers go way back. Peter Fairbrother began his printing career in the 1940s in England. He worked his way up the ladder and his way to the United States where he became District Manager for Addressograph-Multigraph in Los Angeles, California. As the offset printing revolution overtook the letterpress, Peter looked for qualified technicians to grow the business. He found Victor Gelfo, a nineteen-year-old nephew who was in college pursuing a degree in electronics engineering.
Victor joined Peter in the printing industry while continuing college at night for six years. After college, Victor started his first printshop where he printed flyers, booklets and forms for local businesses in the San Fernando Valley. Later he joined Warner Bros. Graphic Services where he worked for years until he was offered a position as General Manager at a struggling shop in Los Angeles. He used his expertise to streamline the shop and increase its capabilities to include digital printing and four-color process printing. The shop rapidly grew from 5 employees to 22 employees with over 2 million dollars in sales. In 1998 he was approached again and challenged to create a new shop specializing in trade printing, and Promedia Printers was born October 1, 1998. Victor now runs Promedia Printers with two of his finest pressmen from Warner Bros: Victor Mirassou and Raul Tovar.
Our Mission
Our mission: Give our clients what they need to be successful in their business. We feel that your success is our success. We freely share our experience and knowledge to all of our clients to insure the best possible outcome on their print projects. We maintain a comprehensive list of equipment which gives our clients efficient alternatives which improve quality and save money.
Guiding Principles
We're proud of the of the name we built. Promedia is known in our community as a high quality printer offering solutions based printing using leading edge equipment and highly skilled staff. We believe that an investing in technology saves money by improving efficiencies.
We will continue to evolve as our industry changes. Printing is fast-moving in many ways with its evolution towards digital printing. We feel that offset and digital processes have their strengths, and knowing when to change from one platform to another is something we know well.
Our team of professionals are always ready to learn more to meet whatever challenges our clients face. We created this website to make it easier for our clients to request estimates, place orders, upload files, check proofs, view inventory and much more. We hope you find it as helpful as we do.